What Are STIs?

STIs (sexually transmitted infections) sometimes called STDs (sexually transmitted diseases) can be passed from one person to another when you have any type of sex; oral, vaginal or anal.
STIs don't always cause symptoms so the only way to know is to get tested.
It's important to get screened regularly. Below is a list of common STIs to be screened for: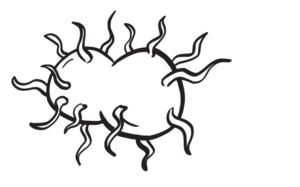 Chlamydia
Gonorrhea
Hepatitis
Herpes
HIV and AIDS
HPV and Genital Warts
Syphilis
Trichomoniasis
---
Reported STI cases, such as syphilis, chlamydia, gonorrhea, and HIV are rising among adolescents and young adults across the United States and Howard County is no exception
.   

Howard County Facts
• Chlamydia is the most reported STI in Howard County.
• 15-19 year olds in Howard County accounted for 29% of new chlamydia cases in 2016
• 15-19 year olds in Howard County accounted for 14% of new gonorrhea cases in 2016
• 15-19 year old females in Howard County are 3 times more likely to have Chlamydia than young men.
• 15-19 year old females in Howard County are 2 times more likely to have Gonorrhea than young men.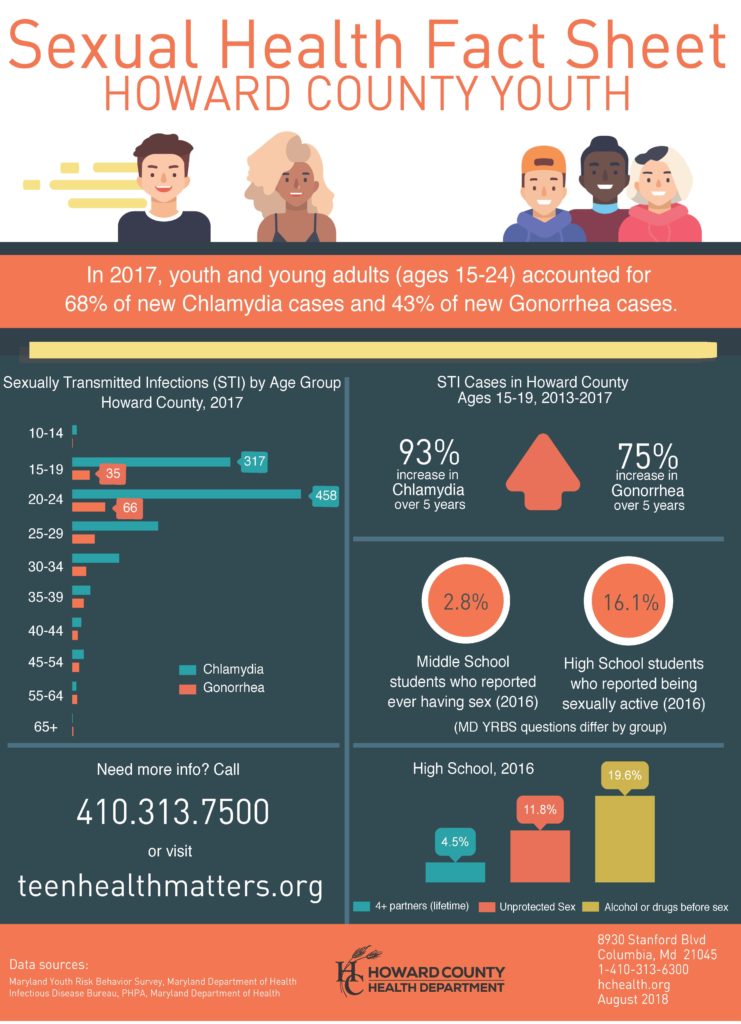 STI Prevention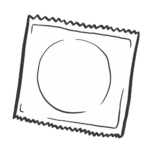 Abstinence. The surest way to protect yourself against STIs is to not have sex of any kind, be it vaginal, anal, or oral sex.
Avoid drugs and alcohol. Alcohol and drug use can reduce your ability to make decisions that you may not make when sober.
Talk with your partner(s). It's important to communicate about STIs and getting tested before sexual activity. Use this communication tool to help.

Talk to your healthcare provider. Be sure to get the health care you need. For tips on how to prepare for a visit to your health care provider, click here.
Get Tested. If you decide to have sex, both you and your partner should get tested for STIs before having sex.
Get Vaccinated. There are vaccines that can protect against infection from HPV, hepatitis A and hepatitis B. Ask your doctor about which ones you should get.
Use Condoms. Condoms are a great way to stop most STIs from passing from one person to another. They should be used correctly each and every time. Test your condom know-how by playing the condom game.
Howard County Health Department provides free condoms.  Contact us 410-313-7500 or stop by our location at 8930 Stanford Blvd., Columbia, MD 21045.
Get Screened

The only way to know if you have an STI is to get screened.
Where can I get screened?
Talk with your healthcare provider about screening or search for a clinic near you using the tool below.
---
Are you a Howard County high school student? Would you like a free and confidential STI test? 
The Howard County Public School System (HCPSS) and Howard County Health Department (HCHD) have launched an awareness campaign to inform high school students about the risks of STIs and offer free, confidential screening tests and access to treatment.  This initiative, IWTK, is co-sponsored and funded by a grant from the Maryland Department of Health. Students who choose to participate in school-based STI screening will be provided with instructions about how to obtain the kit, how to collect their specimens, how to send in the kit for testing, and notification of results and treatment locations, if test results are positive. 
For more information speak with your school nurse, guidance counselor or click here.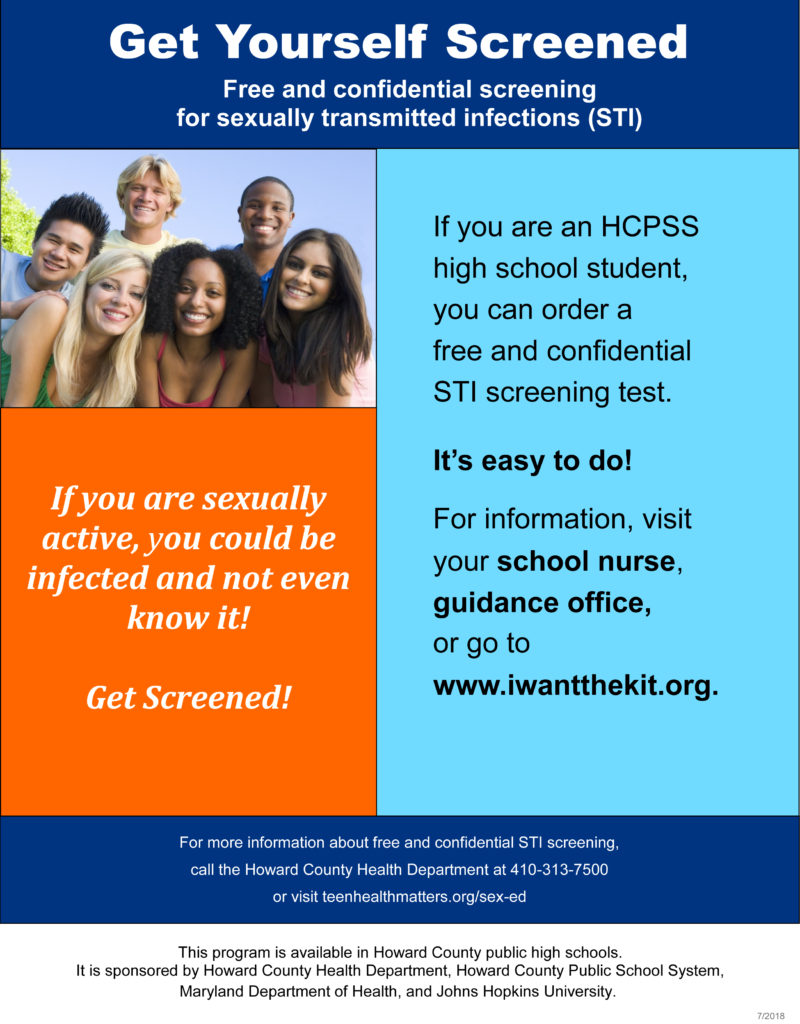 ---
---
Get Treated

If you've found out that you have gonorrhea or chlamydia, or any STI, you need to be treated.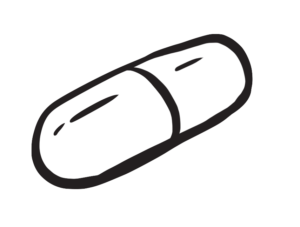 Expedited Partner Treatment
If you've been diagnosed with an STI you may be able to get treatment for your partner, too. Ask your health care provider or contact the Howard County Health Department at 410-313-7500 to schedule an appointment.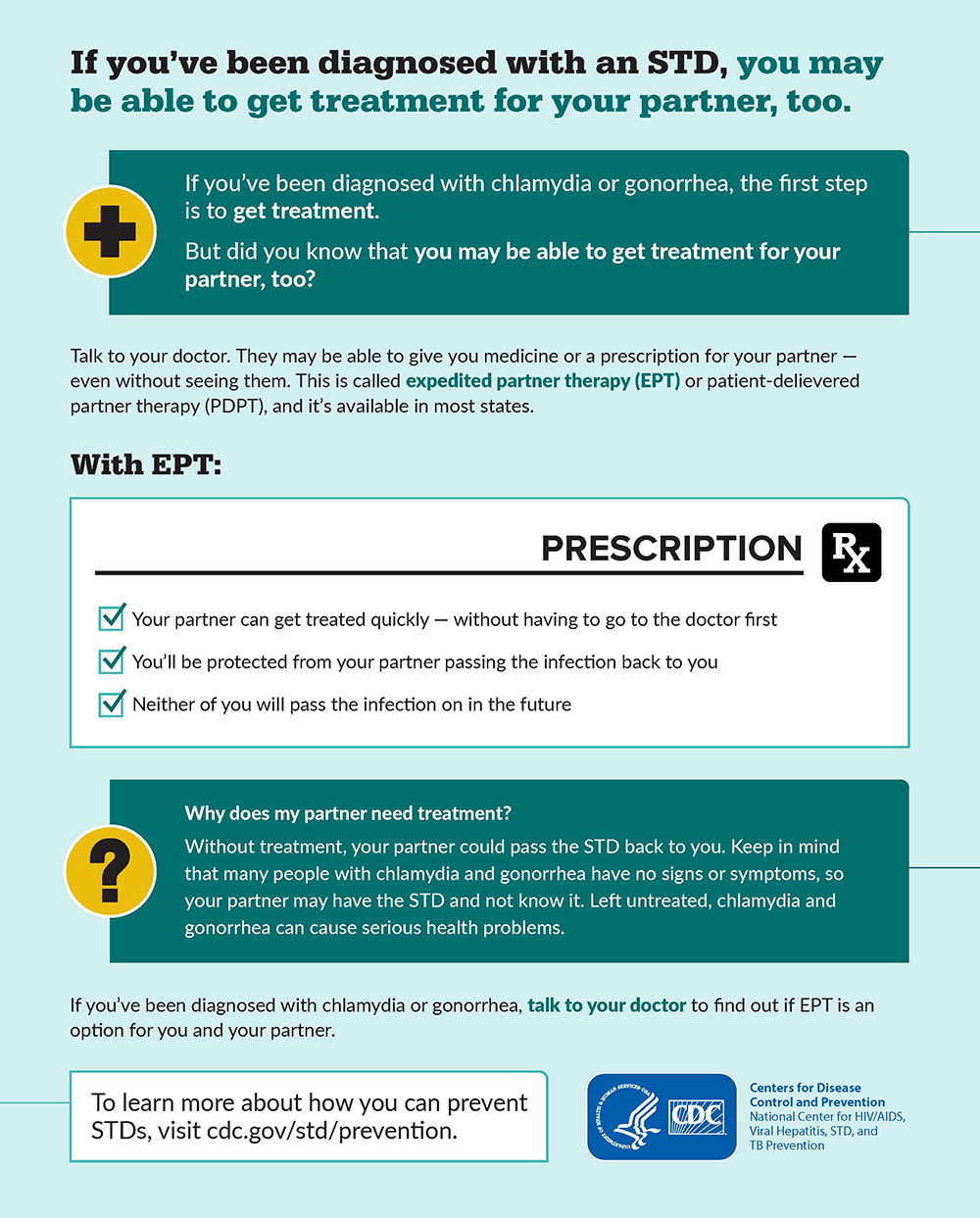 HoCo PrEP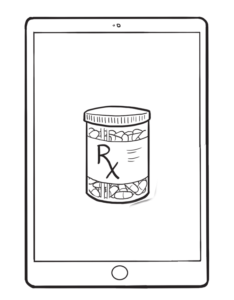 What is PrEP?
Pre-exposure prophylaxis, or PrEP, can reduce your risk of HIV infection.
How does PrEP work?
1 pill a day reduces the risk of HIV infection from sex by over 90%.
Facts about PrEP
• HIV testing is done before starting PrEP because PrEP is only for people who are HIV negative.
• PrEP involves seeing your provider at least every three months to get a new prescription and receive follow-up HIV/STI testing.
• You can get help for side effects, if you have them.
• Many insurance plans, including Medicaid, cover PrEP. Help may also be available if your co-pay or deductible is too high.

You may want to consider PrEP if you are:
• In a relationship with an HIV-positive partner.
• Someone who has unprotected sex with multiple partners, especially if you are a:
• Gay, bisexual or same gender loving man.
• Transgender woman who has sex with men.
For more information about PrEP, contact the Howard County Health Department at
410-313-7500

.
Resources

Local and national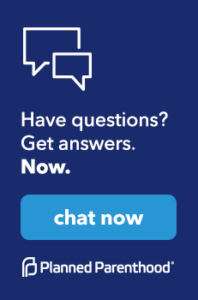 Howard County Health Department – Reproductive Health
Provides clinical services that include reproductive (sexual) health education for men and women, pre-conceptual (pre-pregnancy) health counseling, gynecological exams, and birth control choices. Free and confidential pregnancy testing, sexually transmitted infection testing, and HIV/AIDS testing is also available.
410.313.7500
https://www.howardcountymd.gov/Departments/Health/Clinical-Services
---
Hope Works (Family/Romantic Relationships)
Provide support and advocacy to survivors of sexual, dating, and domestic violence, and aims to be the catalyst in the community to change the cultural norms that allow sexual and domestic violence to happen.
410.997.2272
www.wearehopeworks.org
---
Gay, Lesbian, Bisexual, Transgender (GLBT) National Youth Talkline
Provides vital peer-support, community connections and resource information to people with questions regarding sexual orientation and/or gender identity
www.glbthotline.org
---
LGBT Issues: PFLAG
Promotes the health and well-being of gay, lesbian, bisexual and transgender people, their families and friends through support, education, and advocacy
Daytime Hotline: 410.837.5445
Evening Hotline (7-10pm): 410.837.8888
National Hotline: 1.888.843.3564
www.pflagmd.org
---
Rainbow Youth Alliance
Supports the community of gay, lesbian, bisexual, transgender, intersex, queer, and questioning teens and their allies
410.290.8292
http://rainbowyouthalliancemd.org/ 
---
Planned Parenthood of Maryland
A not-for-profit family planning agency that provides high-quality, affordable reproductive health care for women, men and teens. 
410.576.1414
https://www.plannedparenthood.org/planned-parenthood-maryland
---
Love is Respect
Offers support, information and advocacy to young people who have questions or concerns about their dating relationships. Free and confidential phone, live chat and texting services are available 24/7/365.
Chat at www.loveisrespect.org
Text loveis to 22522
Call 1-866-331-9474
http://www.loveisrespect.org/
---
I Want The Kit (IWTK)
IWTK is a program of the research laboratory of the Johns Hopkins University School of Medicine. The test kit is a self-collected vaginal, urethral or rectal swab that will screen for chlamydia and gonorrhea.  For more information go to www.iwantthekit.org