Sex Ed Basics
Healthy Relationships
Consent
Safer Sex & STIs
Birth Control
Resources
Sex Ed Basics

During puberty, when your body develops from a kid to an adult, many people start thinking and talking about sex.  Confused?  We're here to help!  
On this page:
First, let's go over sexual and reproductive anatomy (body parts).  We've divided it up into what is traditionally called male and female anatomy, although everyone's genitals are different and are not representative of one's gender identity.  
Male Anatomy
External (outside the body)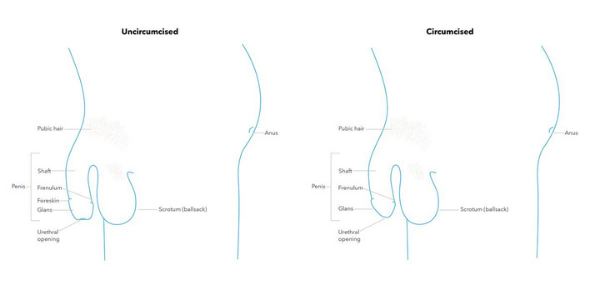 Penis–  the male sexual organ. When a person gets turned on or aroused, the penis fills with blood, causing an erection, or when the penis is "hard."  The average hard penis is 5-7 inches, and some get bigger when hard, and others don't really change in size.  Some penises are circumcised, meaning they had the foreskin removed, and others aren't. 

 

Parts of the penis:

 

Glans– head/tip of the penis, with the opening of the urethra, where pee/urine and semen leave the body.  Also the most sensitive part of the penis for some 

 

Shaft– the part of the penis from the glans to where it connects to the body

 

Foreskin– for those who have not been circumcised, it protects the head and pulls back when the penis is hard to expose the tip

 

Frenulum– a small V just below the head, where the foreskin connects to the underside of the penis; very sensitive for most people 

 

Scrotum– also known as the ballsack, it is the sack of skin that holds the testicles and hangs below the penis. The skin covering the scrotum is wrinkly and covered with hair, and the scrotum is really sensitive.

 

Anus– opening to the rectum where feces/poop comes out of, also can be stimulated for sexual pleasure
Internal (inside the body)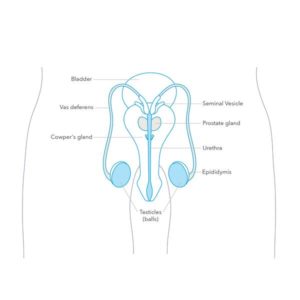 Testicles (balls)- glands inside of the scrotum that produce sperm and hormones 

 

Epididymis– tube where sperm matures and connects the testicles to the vas deferens 

 

Vas deferens– long tube that carries sperm from the epididymis to the seminal vesicles during ejaculation 

 

Seminal vesicles– two small organs located below the bladder the produce semen, which is the fluid that contains sperm

 

Prostate gland– produces a fluid that helps sperm move, and is very sensitive and pleasurable to touch for some people 

 

Cowper's glands– produce pre-ejaculate or "precum"

 

Urethra– tube that carries urine, pre-ejaculate, and semen to the urethral oening 

 

Crewmaster– muscle that moves the scrotum and testicles closer to the body 

 
(Source: Planned Parenthood)
---
Female Anatomy
External (outside the body)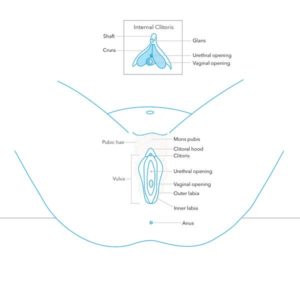 Mons pubis– skin above the vulva that cushions the pubic bone, and is covered in pubic hair after puberty

 

Labia– there are two folds of skin, or lips, around your vaginal opening: the outer labia (labia majora) and the inner labia (labia minora).  

 

Clitoris– the clitoris is located at the top of the vulva and the tip is covered by the clitoral hood. The clitoris is responsible for sexual pleasure- in other words, it feels good when stimulated during sex or masturbation! 

 

Urethral opening– the hole that urine or pee comes out of 

 

Vaginal opening– the hole through which menstrual blood and babies leave the bodies; also where you can insert a tampon/menstrual cup and a partner's penis, fingers, or sex toys

 

Anus– opening to the rectum where feces/poop comes out of, also can be stimulated for sexual pleasure

 
Internal (inside the body)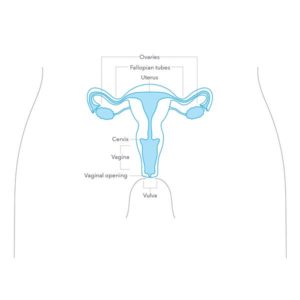 Vagina– the vagina is a stretchy, muscular tube through which menstrual blood and babies leave the body, and expands when someone is aroused/turned on. Also where you can insert a tampon/menstrual cup and a partner's penis, fingers, or sex toys

 

Cervix– divides the vagina and the uterus, with a small hole through which menstrual blood is released.  The opening in the cervix is really small, so tampons and other objects can't get lost or pass through to the uterus

 

Uterus– a muscular organ where a fetus grows during pregnancy 

 

Fallopian tubes– two tubes, one on each side of the uterus, where the egg travels from the ovaries to the uterus

 

Ovaries– the ovaries store you eggs, produce hormones that control your menstrual cycle, and after puberty begin to release an egg once a month 

 
(Source: Planned Parenthood)
---
How do people become pregnant?
Pregnancy occurs when a person with a penis ejaculates (comes) into a vagina.  If the person with the vagina is ovulating, meaning they have released an egg from the ovaries into the fallopian tube, they can become pregnant when the sperm in the ejaculate travel up through the vagina, cervix, and into the fallopian tube to fertilize the egg.  The fertilized egg will then travel through the fallopian tube and implant in the uterus, marking the beginning of pregnancy.   
You can prevent pregnancy by using barrier methods, like condoms, to prevent the sperm from traveling through the cervix, or different types of birth control that prevent pregnancy through hormonal methods.
You CAN get pregnant from penetrative, penis-in-vagina sex.  During this type of sex, you can get pregnant not only from ejaculate (come) but also from pre-ejaculate or precum.  You CANNOT get pregnant from oral or anal sex.   
---
The Menstrual Cycle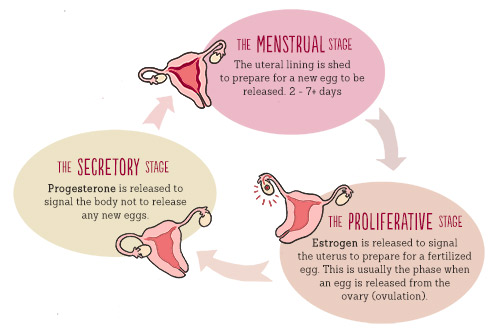 The "menstrual cycle" is the process that your body goes through to prepare for a possible pregnancy.  One ovary releases an egg, and the uterus builds up its lining to prepare for a fertilized egg to implant itself.  When this doesn't happen, the uterine lining sheds, resulting in the release of blood through the vagina, or a "period."  The graphic above explains the cycle and the hormones that make it happen.  
On average, girls get their first period around the age of 12, but it can happen from the ages of 10-16.  The bleeding lasts about 3-8 days, and the menstrual cycle lasts about 28 days, but can range from 21-35 days (or longer).  This means, if you have a menstrual cycle that lasts 28 days, you will get your period every 28 days.  
Leading up to your period, you might have PMS, or "premenstrual syndrome."  These are the symptoms you may get leading up to your period, due to the hormones in your body.  PMS affects everyone differently, but some people may feel bloated, have sore breasts, headaches, mood swings, and more (learn more about PMS here).  
During your period, especially during the first few days, you may get cramps as your uterus contracts to expel the uterine lining.  These can be really uncomfortable, but they can be managed through over-the-counter (meaning you can get it without a prescription) pain relief drugs like ibuprofen, naproxen, or acetaminophen.  Other things that help include exercise, using a heating pad or hot water bottle on your stomach, and taking a hot bath.  
There are a few options to collect the blood during your period, depending on what works best for you.  They are:  
Pads, which attach to your underwear

 

Tampons, which are a small piece of cotton you insert into your vagina with a plastic applicator 

 

Period underwear, which are specially made to be worn during your period 

 

Menstrual cups, which are small plastic cups inserted like a tampon

(

click here

to learn about how to use these options!)
If your period is not normal or unmanageable– for example, your flow is so heavy you need to change your pad/tampon every hour, your period or PMS prevents you from doing your daily activities, or any of these reasons– you should see your doctor to get checked out.  
---
Sex, Gender, & Sexual Orientation

People often mix these three things up, so let's define them! 
Sex is assigned at birth and describes your external genital anatomy.  For example, a baby born with a penis will be assigned male and a baby born with a vulva will be assigned female.  Intersex describes those born with reproductive or sexual anatomy that doesn't match what is typically assigned male or female.  Learn more about what it means to be intersex here.  
Gender identity is a person's internal sense of their gender- whether they feel like a woman, man, neither, or both- and may or may not match their sex assigned at birth.  Gender expression is how a person presents their gender to other people, like through clothes, voice, behavior, or other means.  
Cisgender means that a person's gender identity matches their sex assigned at birth.  
Transgender means that a person's gender identity does not match their sex assigned at birth. Some people who identify as transgender may take steps transition, such as through gender affirming hormone therapy or surgery, and others may not.  
Sexual orientation describes who a person is attracted to.  Straight describes those attracted to the opposite sex, gay describes men who are attracted to men, lesbian describes women who are attracted to women, and bisexual describes people attracted to men and women.  However, these aren't the only sexual orientations- there are lots!  Learn more and find resources at the Trevor Project.   
(Sources: NPR, Planned Parenthood) 
Healthy Relationships
Consent
Safer Sex & STIs
Birth Control
Resources