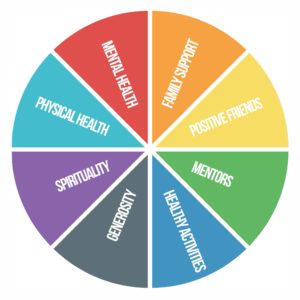 What is Sources of Strength?
Sources of Strength is a peer leadership program where peer leaders and adult advisors are trained to design and share Hope, Help, and Strength-based messages with other youth in the community. The program aims to prevent suicide, bullying, and substance use by promoting help seeking behaviors and developing relationships with trusted adults.
What's New?
What's New at Howard County
Sources of Strength
Spring Newsletter
Check out the Spring Newsletter to learn more about the What Helps Me Campaign and the activities Peer Leaders participated in during the spring semester! You can find the SOS Newsletter Spring 2021 edition here.
Community Sharing Session: What Helps Me 
Howard County Sources of Strength hosted a Community Sharing Session on April 21st to provide an opportunity for adults and youth to share stories of strength, coping, and resilience.
Peer Leaders, Hashini and Jasmine, shared their story of connection and strength that helped them persevere during COVID-19. You can watch them in action in the clip below!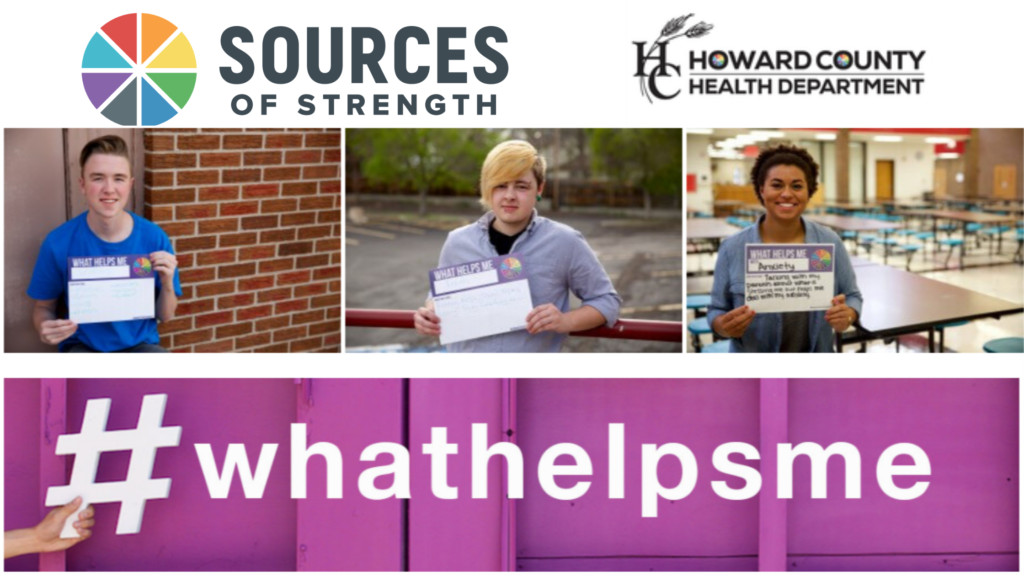 Teen Health Matters Podcast
Student interns hosted two new editions of the Teen Health Matters Podcast during the 2020-2021 school year. In the fall installment titled "Keeping Connections," student hosts interviewed peers and staff about ways to maintain social connections while physically distancing during the COVID-19 pandemic.
In the winter installment, our student interns spoke with a UMD freshman and the Assistant Director of Student Support Services at Howard Community College about the unique challenge of transitioning to college during COVID-19. Listen to both editions of the podcast on Dragon Digital Radio or on Teen Health Matters!
Winter Newsletter
Student interns and members of the Sources of Strength Communications Crew collaborated on a December 2020 Newsletter to update parents, peers, and the wider community on program activities. 
2020-2021 Launch
The 2020-2021 Sources of Strength program launched on October 14th with an interactive, virtual training hosted by the national Sources of Strength training team.
Following the training, Bureau of Behavioral Health staff and student interns put together drawstring bags for Sources of Strength Peer Leaders comprised of mental health resources, snacks and candy, and Sources of Strength campaign materials. These bags were distributed to Sources of Strength participants throughout the month of October.
Joining the Team
Joining the Team
Why become a Sources of Strength Peer Leader?
Build leadership skills, interpersonal skills, and student connections

Use your voice, and social influence to prevent suicide

Learn how you can be a mental health advocate in the community
How does Sources of Strength work?
Creates an interactive peer leadership program that influences positive social change

Empowers students to create networks of connection and resiliency

Increases help-seeking behaviors

Promotes positive connections between peer leaders and adults
Campaigns
2020-2021 Campaigns
What Helps Me
Sources of Strength Peer Leaders chose What Helps Me as the theme for the 2020-2021 campaign. What Helps Me encourages our community to share what coping mechanisms bring us strength to get through hard times. Our Peer Leaders and Adult Advisors agreed that pets have been a huge support to us during COVID-19. Check out our "Pawsitive Friends" collage spotlighting our pets below! 
On April 21st, Sources of Strength HoCo will be hosting a Community Sharing Session to promote a community dialogue around coping, connectedness, and resilience. The event is open to youth and adults in Howard County. Learn more about the event here.
Thankfulness Challenge
Did you know that studies have shown practicing gratitude can change the physical makeup of our brains, making us more positive and content?
This November, we challenge you to write down 3 things you are thankful for everyday for 21 days. Join us in participating in #ThankfulThursday to spread messages of gratitude on social media. 
---
2019-2020 Campaign
I Am Stronger
Over the course of the 2019-2020 school year, Peer Leaders & Adult Advisors implemented a social media campaign called I Am Stronger. This campaign allowed participants & Howard County residents to become familiar with Sources of Strength & to see how others use their strengths!
Pilot Year Summary
Sources of Strength Pilot Year
In October 2019, the Howard County Health Department recruited over 50 high school students in Howard County to become Peer Leaders & advocates for mental health. The Sources of Strength program launched in November 2019. Peer Leaders & Adult Advisors participated in several hours of training in order to learn how to appropriately spread messages of hope in the community. 
The first Sources of Strength class graduated in June 2020. Over the course of the first year, 44 students representing 12 Howard County high schools participated in one or more meeting. These monthly meetings (virtual starting in April) included strength-building activities that focused on reducing stigma, developing empathy, reaching out to others, and sharing stories of strength and hope. Congratulations to the first class of graduates and thanks to all the adult volunteers who participated.
Social Media
Follow us on social media to see what students are doing in the community!
Student interns host the Teen Health Matters Podcast to talk about Sources of Strength, mental health initiatives, & other related topics! Click here to listen!