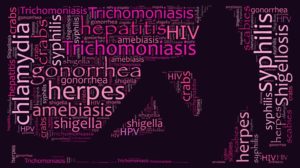 Rates of new sexually transmitted infections (STIs), such as syphilis, chlamydia, gonorrhea, and HIV are rising among adolescents and young adults across the United States. Youth in Columbia, are also at risk. In 2016, chlamydia and gonorrhea rates among all age groups were the highest they have ever been in the past 10 years. In Howard County, chlamydia rates increased more than 300% from 62 (1996) to 271 (2016). Gonorrhea rates increased 13% in the same period.
In 2016, youth ages 15-19 only represented 6% of the Howard County population, but were disproportionately affected by STIs. In fact, 29% of youth ages 15-19 had chlamydia and 14% had gonorrhea.  Females were also disproportionately affected by STIs with 8 out of 10 females reported with chlamydia and 6 out of 10 females reported with gonorrhea. Many STIs do not cause any symptoms that one would notice; that is why it is crucial to get tested. Unfortunately, recent studies show that few adolescents are receiving the STI and HIV testing and treatment needed.
Tips for prevention:
Abstinence.The surest way to protect yourself against STIs is to not have sex of any kind including vaginal, anal, or oral sex.
Get tested. If you decide to have sex, you and your partner should get tested for STIs before having sex.

Use condoms. Make sure that you and your partner use a condom from start to finish every time you have oral, anal, or vaginal sex. It is also important to know where to get condoms and how to use them correctly.
Avoid drugs and alcohol. Teens should also avoid mixing alcohol and/or recreational drugs with sex. When using alcohol and drugs, you are more likely to take risks, like not using a condom.
Talk to your health care provider. It is imperative to be sure you get the health care you need. Ask a doctor or nurse about STI testing and about vaccines against other infections such as HPV and hepatitis B.
For more information about STIs, call the Howard County Health Department at 410-313-7500 to schedule a free and confidential appointment. To find other locations for testing, visit TeenHealthMatters.org.