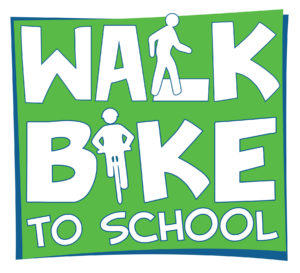 I know what some of you may be thinking, "Why walk? I can just take the bus" or "I'll have my parent(s) drop me off." Walking to school can be a great way to get some physical exercise before having to sit down for the majority of the school day. Some studies suggest that students who walk to school will arrive in a calmer state of mind, ready to tackle the rest of their day. Another benefit is not having to deal with vehicle traffic on the way to school. This can be a stressful situation, especially for new drivers. Walking/biking can also help you spend time with friends who you may not have many classes with during the school day. So grab a friend and walk or bike to school on October 4th, 2017…and everyday!
Why walk/bike?
Increases your amount of physical activity

Reduces traffic congestion

Good way to spend time with friends
Staying safe on the road:
If walking, use the sidewalk or walk facing traffic if sidewalks are not available.

Pay attention to your surroundings. Take a break from listening to music or podcasts and take in what is around you.

Always use crosswalks.

If biking, bike with the traffic and stay alert for other drivers and opening car doors.

Always wear a helmet! You may not think it looks cool, but it will prevent serious injury in the event of an accident.
To learn more visit: www.walkbiketoschool.org