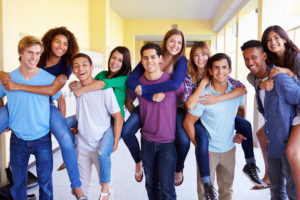 Back to School
It's the end of summer and time to start a new school year!  Here are five tips to help you to start the school year!
Get enough sleep 
You're probably going to miss those late nights and waking up late with the new school year starting.  When school starts, it's getting up early and going to bed late.  But you can still find ways to get in sleep with your busy schedules.
Maintain a regular sleep schedule
Avoid oversleeping on the weekends
Turn off electronic devices at least 30 min to 1 hour before bed
Avoid caffeine before bed


Did you know that the recommended amount of sleep for teens is 9-91/2 hours?
Plan ahead
Before the 1st day of classes, check to make sure you have all your needed school supplies.
Pack your backpack the night before school starts.
Have your 1st day of school outfit picked out and ready to go.
Eat healthy
Check out your school salad bar.
Stay hydrated.  Water is always a good choice.
Check out this site for healthy school lunch choices.
Stay healthy
Find a fun activity that you enjoy doing
Ask a friend to join you
Get your annual flu shot
Cover your coughs
Wash your hands
Check in with your emotions
People can feel all sorts of emotions, i.e anxious, excited, worried or scared, when they start school.  Check in with yourself and ask how you're feeling.   After a few days,  you may start to feel less stressed or overwhelmed.  But if you're still feeling stressed or overwhelmed, talk to someone you trust like your parents, school guidance counselor,  or a teacher to tell them how you're feeling and ask what you can do.
Now a word from Kid President…
Source: Hoffses, K. (Ed.). (2018, August). Back to School. Retrieved August 30, 2018, from https://kidshealth.org/en/teens/back-to-school.html?ref=search&WT.ac=msh-t-dtop-en-search-clk