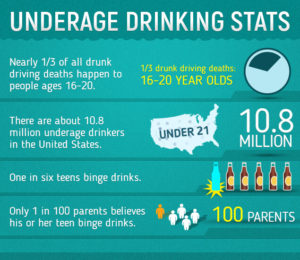 According to the Howard County Police Department, there were more than 7,261 DUI (driving under the influence) arrests by the Howard County Police Department in 2010-2015, and there were 23 fatal alcohol-related crashes between 2010 and 2015.
By the age 15, 33% of teens have had at least one drink, and by the age 18, 60% of teens have had at least one drink (SAMHSA). Also, teenagers aged 12-20 years drink over a tenth of the alcohol consumed in the United States.
Even though youth consume less alcohol than adults do, when they do drink, they consume more. 90% of the alcohol is consumed by binge drinking, which is consuming several drinks on an occasion (CDC).
---
Drinking isn't THAT bad? Or is it?
Underage drinking has proven to lead to negative consequences, such as:
Death from motor vehicle crashes / other accidents

In 2011, about 188,000 people under the age 21 visit an emergency for alcohol-related injuries.

Alcohol poisoning

Alcohol leads to an average of 245 deaths per year due to alcohol poisoning, falls, burns, and drowning, according to the CDC.

Impaired judgment

Alcohol can lead to poor decisions about risky behaviors such as drinking and driving, sexual activity, and aggressive behavior.

Increased risk of alcohol problems later in life

People who start drinking at a young age are more likely to meet the criteria for alcohol dependence at some point in their lives.

Interference with brain development

Alcohol can affect brain development, both brain structure and function.
---
Why do so many young people drink?
Peer pressure
Desire to drink
Stress
Easy access to alcohol

In 2015, of the 12–14-year-olds who reported that they drank alcohol in the past month, 95.1% reported that they got it for free the last time they drank 
---

What are the signs of underage drinking?
These changes are typically a normal part of growing up, but several of these signs combined together may point to an alcohol problem.
Changes in mood, including anger and irritability
Low energy level
Less interest in activities and/or care in appearance
Finding alcohol among a young person's things
Smelling alcohol on a young person's breath
Problems concentrating and/or remembering
Slurred speech
Coordination problems
---
What are the signs of a substance use disorder?
If substance use has negative consequences for you, you may be experiencing an addiction. Identifying the problem is the first, important step toward getting healthy again.
Blacking out or experiencing memory loss
Arguing or fighting with family members or friends
Experiencing irritability, depression, or mood swings
Using substances to feel "normal" or to change the mood and relax or cheer up
Difficulty sleeping or dealing with problems without using
Experiencing headache, panic attacks, insomnia, nausea, diarrhea, sweating, tremors and shaking, nightmares, hallucinations, or other unpleasant withdrawal symptoms
Changing appearance, including flushed skin, discolored eyes, and broken capillaries
Keeping substance use secret or lying about how much or frequently you use
---
How can I tell if drinking has become a problem?
Alcoholism can be hard to admit to. Yet nobody is too young (or too old) to have trouble with alcohol. That's because alcoholism is an illness. It can hit anyone. And it doesn't matter how long you've been drinking or what you've been drinking. It's what drinking does to you that matters most.
---
How do I start a conversation about alcohol use?
Some sample conversation starters:
Be Honest
"I care about you."
"I'm worried about your health. Drinking too much puts you at risk for heart disease, stroke, liver problems, and some cancers."
"Your drinking is affecting our relationship."
Offer Tips
"Set a drinking limit. Stick to your limit by writing down every drink you have."
"Try taking a night or two off from drinking each week."
Support Them
"How can I support you?"
"Let's do things that don't involve drinking – like seeing a movie or going for a walk."
---
Resources
If you are in need of immediate or emergency services, please call 911 or a 24-hour crisis hotline such as the National Suicide Prevention Lifeline 1-800-273-TALK (8255) or the National Domestic Violence hotline 1-800-799-SAFE (7233).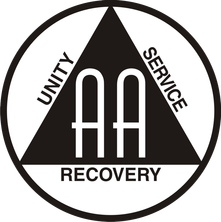 Find a local Alcoholics Anonymous (AA) meeting
http://www.aa.org/pages/en_US/find-local-aa
Alcoholics Anonymous® is a fellowship of men and women who share their experience, strength and hope with each other that they may solve their common problem and help others to recover from alcoholism. The only requirement for membership is a desire to stop drinking. There are no dues or fees for A.A. membership; we are self-supporting through our own contributions. Their primary purpose is to stay sober and help other alcoholics to achieve sobriety.
---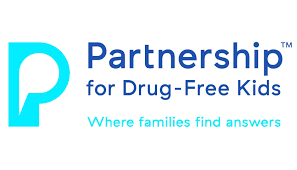 Visit: https://drugfree.org/article/get-one-on-one-help/
Call 1-855-378-4373
Speak with one of the specialists to share your story, your concerns and ask questions about the best ways to get help for your son, daughter or loved one.

Monday-Friday, 9am – Midnight ET
Saturday & Sunday, 12pm – 5pm ET
Send an email https://drugfree.org/email-helpline-specialist/
Begin getting personalized help. The specialists will get back to you within 24-48 hours with an emailed response. To allow the specialists to provide the best help possible, please include as many details as possible in your message.
Send a text message to 55753
---
Content sources:
https://pubs.niaaa.nih.gov/publications/UnderageDrinking/UnderageFact.htm
https://www.cdc.gov/alcohol/fact-sheets/underage-drinking.htm
https://healthfinder.gov/HealthTopics/Category/parenting/healthy-communication-and-relationships/talk-to-your-kids-about-tobacco-alcohol-and-drugs#the-basics_1
https://www.facingaddiction.org/resources/signs-and-symptoms-of-addiction
https://healthfinder.gov/HealthTopics/Category/everyday-healthy-living/mental-health-and-relationship/alcohol-use-conversation-starters